Clue #29 - Persephone (5) Mittelwerk, Sublymonal, Heir Apparent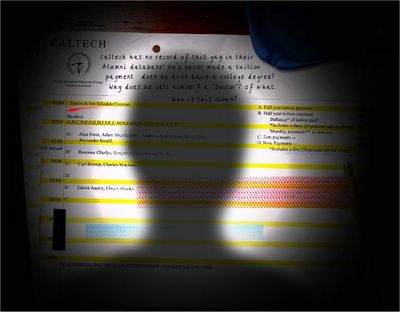 Remember the
Sprite
commercial in the phone message? Some changes on the Hanso Foundation site (mainly, the clock changed to OB:EY and turned into a link) and also another commercial that aired during "the bird flu" movie & an episode of LOST, leads us clue seekers to a Sprite related AD that ties in to LOST through a link to the website:
http://sublymonal.com/
.
Go to
sublymonal.com
. You have to click the monitors using the LOST numbers, 4 times, 8 times, 15 times, 16 times, 23 times, 42 times. It then unlocks a message: "
code: Heir Apparent
" with a link to
thehansofoundation.org
.
When you go back to thf.org site and click Thomas Mittelwerk's picture in the Executive Bios section. Type in "heir apparent" into the box. Here is what happens:
The screen "melts"
You see a door. A blonde woman stands with her back to us.
When you click, she turns around.
Cal Tech records appear with a shadow. Click the words above the red underline.
Persephone:
"Caltech has no record of this guy in their alumni database. He's never made a tuition payment. Does he even have a college degree? Why does he call himself a doctor? Of what. Who is this clown?"


Under the red stuff it says
"Gary Troup knows too much"
Under the blue stuff it says
"he must be silened (or silencd)"
(not silenced)
EDIT:
The red & blue stuff has changed. What you see above is what was there originally.
This is why we have to work together in case some of us miss stuff! The creators of the Lost Experience are doing this intentionally - they want us to foster community.
*Thanks to David, John, Troy, Josh, Cool Man, and others who contributed quickly.